LCN2 gene expression and serum levels in AH: correlation with disease severity, liver fibrosis and portal hypertension
Analysis of microarray data from patients with AH22 showed that hepatic LCN2 gene expression is one of the most up-regulated genes in the whole transcriptome (Supplementary Figure 1a). Confirmatory real-time qPCR showed a dramatic up-regulation of LCN2 in AH patients, which was not observed in other liver diseases including nonalcoholic steatohepatitis (NASH), HCV-induced chronic hepatitis and HCV-induced compensated cirrhosis. In patients with AH, serum LCN2 levels correlated with the hepatic LCN2 mRNA expression (Fig. 1a). The results suggest that hepatic LCN2 gene expression is an important source of circulating LCN2 in patients with AH.
To assess the clinical relevance of LCN2, the association of LCN2 gene expression with parameters indicative of disease prognosis was evaluated. We found that hepatic LCN2 gene expression positively correlated with the main prognostic scores in patients with AH, including the Age/Bilirubin/International normalized ratio/Creatinine (ABIC) score (r = 0.41, p = 0.002) and the Model for End-stage Liver Disease (MELD) score (r = 0.41, p = 0.002) (Fig. 1b). Moreover, serum level of LCN2 positively correlated with AH disease severity, as assessed by the ABIC score (r = 0.53, p = 0.0002) and MELD score (r = 0.43, p = 0.004) (Fig. 1c).
It is well-established that Gram-negative bacterium-derived LPS is a major driver of AH23. We found that hepatic LCN2 gene expression in patients with AH closely correlated with circulating LPS levels (r = 0.55, p = 0.0002) (Fig. 1d). Furthermore, in vivo, both hepatic Lcn2 mRNA expression and serum LCN2 increased after LPS injection in mice (Supplementary Figure 1b). LPS exposure induced LCN2 expression around sixfold in precision-cut rat liver slices (Supplementary Figure 1c). In contrast, we found that gene expression levels of hepatic LCN2 receptors (i.e. SLC22A7 and LRP2) were slightly increased in AH patients (Supplementary Figure 1d and e).
Importantly, hepatic LCN2 mRNA expression in patients with AH closely correlated with the degree of portal hypertension (r = 0.47, p = 0.0005) (Fig. 1e), a major pathophysiological event. The analysis of RNA-sequencing data from a similar cohort of AH patients revealed that hepatic LCN2 gene expression was highly associated with two extracellular matrix genes: COL1A1 (r = 0.81, p < 0.001) and TIMP1 (r = 0.90, p < 0.001) (Fig. 1f). These results strongly suggest that LCN2 may play a pathogenic role in liver fibrosis and portal hypertension in patients with AH.
Hepatocyte LCN2 expression is highly induced in human AH but not in mouse ALD model
To determine the cell source of LCN2 in AH, we performed IHC in the liver sections from normal controls and patients with AH. In normal livers, LCN2 exclusively expressed in mononuclear cells while its expression was markedly increased in AH livers, not only in inflammatory cells but also notably in hepatocytes (Fig. 2a). Macrophages have been described as LCN2 secreting cells in mice9 and Kupffer cells are resident macrophages in human liver. Concordantly, immunofluorescence staining showed that LCN2 expression co-localized with CD68, a human macrophage cell marker (Fig. 2b). In line with these findings, cultured hepatocytes LCN2 mRNA expression induced by LPS dose-dependently. In macrophages LCN2 gene expression increased markedly with LPS treatment (Supplementary Figure 2a and b).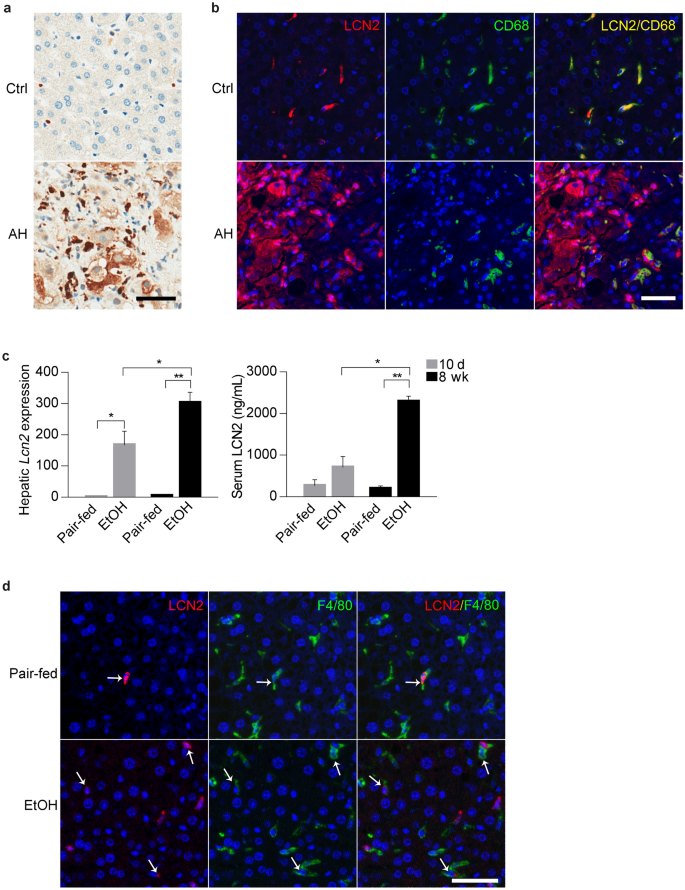 We next assessed LCN2 expression in mice subjected to sub-acute and chronic experimental ALD. For this purpose, mice were fed an ethanol diet plus one binge of ethanol for 10-day or 8-week, as previously described24. Upon ethanol treatment, hepatic Lcn2 mRNA expression significantly increased in both models. Serum LCN2 level was higher in the 8-week ethanol-fed mice (Fig. 2c). LCN2-positive macrophages (Fig. 2d) and neutrophils (Supplementary Figure 2c) were increased in 8-week ethanol-fed mice, but the increase of LCN2 expression not shown in hepatocytes. Take together these results suggest a species discrepancy and that ethanol exposure increases hepatic LCN2 expression only from inflammatory cells in mice. However, in human AH, LCN2 not only from inflammatory cells but also highly induced in hepatocytes.
LCN2 ablation attenuates CCl4-induced fibrosis by mediating ECM deposition and G-protein-coupled receptor (GPCR) signaling
To explore the potential role of LCN2 in the development of liver fibrosis, WT and Lcn2−/− mice were exposed to chronic ethanol for 8 weeks plus binge administration. Even in the absence of overt fibrosis in this model (Supplementary Figure 3a), we found that Timp1 expression, an important pro-fibrogenic effector, was significantly decreased in ethanol-fed Lcn2−/− mice compared with ethanol-fed WT mice, pointing to this metalloprotease inhibitor as an early mechanism in alcoholic liver fibrosis (Supplementary Figure 3b). To further study the role of LCN2 in liver fibrosis, we used CCl4 for 4 weeks to induce advanced fibrosis in WT and Lcn2-/– mice. Notably, Lcn2–/– mice developed less fibrosis accumulation compared with WT littermates (Fig. 3a). The induction of expression of Col1a1 and the genes involved in extracellular matrix turnover, such as alpha-smooth muscle actin (Acta2), Timp1 and Mmp2 were abrogated in mice lacking Lcn2 (Fig. 3b).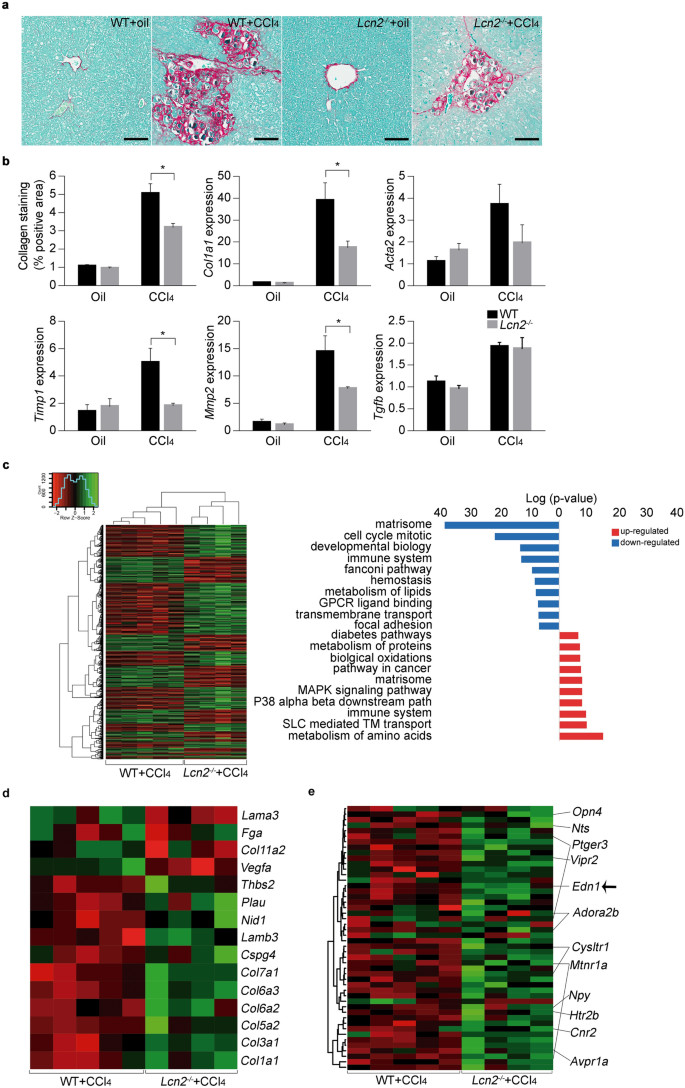 To dissect the molecular mechanisms that mediating LCN2-induced fibrogenic effects in the injured liver, we performed transcriptome profiling analysis in the liver of Lcn2–/– and WT mice treated with CCl4. Absence of Lcn2 gene attenuated the transcriptome changes induced by CCl4. The number of significantly up-regulated genes (1,346 in WT vs 1,067 in Lcn2−/−) and downregulated genes (991 in WT vs 562 in Lcn2−/−) was significantly decreased in mice lacking Lcn2 gene. Gene set enrichment analysis of the differentially expressed genes (GSEA) revealed, among downregulated functions, an enrichment of gene sets related to matrisome, cell cycle, development and immune response (Fig. 3c). A detailed analysis of these gene sets showed the lack of upregulation of multiple collagen genes and genes encoding ECM adhesion glycoproteins in CCl4-treated Lcn2−/− mice (Fig. 3d). Another pathway affected by Lcn2 knockout was G-protein-coupled receptors (GPCR) signaling (Fig. 3e). Defects in GPCR regulation have severe consequences affecting GPCR-stimulated vascular responses25. These results suggest that CCl4-mediated upregulation of ECM and endothelin system genes are dependent on Lcn2 gene expression and LCN2 is a key pathogenic regulator in mouse CCl4-induced liver fibrosis.
Endothelin system gene expression is increased in mouse ALD and human AH
We hypothesized that LCN2 could affect splanchnic vascular tone through regulation of vasoconstrictors and vasodilators related to GPCR signaling. ET1, a potent vasoconstrictor, is upregulated in human cirrhosis26,27. ET1 activity is regulated by endothelin converting enzymes 1 and 2 (ECE1 and ECE2) and its action is mediated by two different GPCRs: endothelin receptor Type A (EDNRA) and Type B (EDNRB). Strikingly, mouse Edn1 gene expression was markedly elevated in WT compared with Lcn2−/− mice upon CCl4 treatment (Fig. 4a). We then explored the expression of the endothelin system gene in 8-week plus binge ethanol-fed mice. In this model, chronic ethanol exposure was sufficient to induce Edn1 expression in WT but not in Lcn2−/− mice (Fig. 4b). Furthermore, we studied the expression of endothelin system genes in the liver of patients with AH. RNA-sequencing data showed that the expression of EDN1, ECE1 and EDNRA was specifically increased in AH livers compared with normal livers and other diseased livers (Fig. 4c). Interestingly, the levels of these transcripts were highly correlated with hepatic LCN2 expression (Fig. 4d). Circulating ET1 concentration was higher in AH patients than in normal controls and HCV patients (Fig. 4e). These results indicate that the endothelin system gene expression is activated in mouse and human after alcohol exposure and is tightly correlated with LCN2 gene expression in the liver.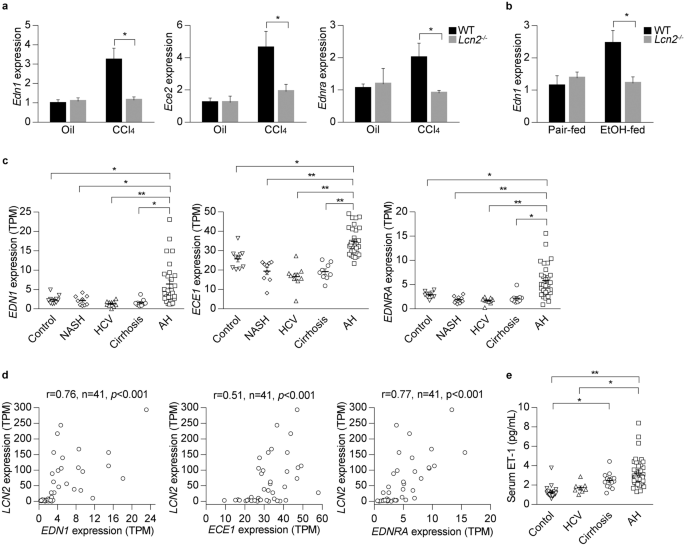 LCN2-HIF1Α axis regulates endothelin expression in human hepatic stellate cells (HSCs)
We next explored whether LCN2 could induce the synthesis of ET1 in the human liver cells. In patients with AH, immunofluorescence staining showed that both hepatocytes and HSCs expressed SLC22A17 (LCN2 receptor) (Fig. 5a). In vitro, we used adenovirus-mediated overexpression of LCN2 in human primary hepatocytes (HPHs) and HepG2 cells. RNA-sequencing data showed that the expression profiles were not significantly altered in both transduced cells (Supplementary Figure 4a). We then investigated the effect of LCN2 on cultured human primary HSCs. Treatment of HSCs with recombinant LCN2 increased the expression level of gene related to HSC activation (Fig. 5b) and increased intracellular free calcium concentration (61.7 ± 6.0 nM), indicating the presence of active receptors (Fig. 5c and Supplementary Table 2). Furthermore, adenovirus-mediated overexpression of LCN2 in the HSCs increased expression of END1 along with HSCs activation marker ACTA2 and other vasoconstrictor factors like angiotensinogen (AGT) (Fig. 5d).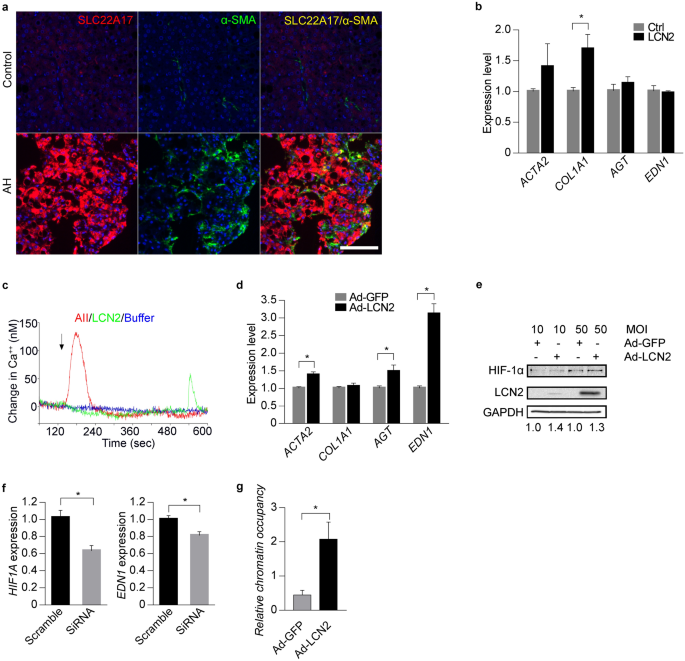 We finally explored the molecular mechanism involved in LCN2-induced END1 up-regulation in the HSCs. In breast cancer cell LCN2 can induce HIF1A expression, which is an important transcriptional factor mediated EDN1 gene expression in endothelial cells28,29. Therefore, we used human LCN2 over-expression adenovirus to infect the HSCs and Western blot results showed that LCN2-overexpression induced HIF1A expression (Fig. 5e). Transfecting specific HIF1A siRNA into the HSCs to knockdown HIF1A expression (Supplementary Figure 4b), we found the decreased EDN1 mRNA expression in the cells (Fig. 5f). Consistently, ChIP-qPCR data showed the increased binding activity of HIF1A to the promoter region of EDN1 gene in HSCs-overexpressing LCN2 (Fig. 5g). Taken together, these results indicate LCN2 induces the increase of EDN1 expression mediated by HIF1A in human HSCs.